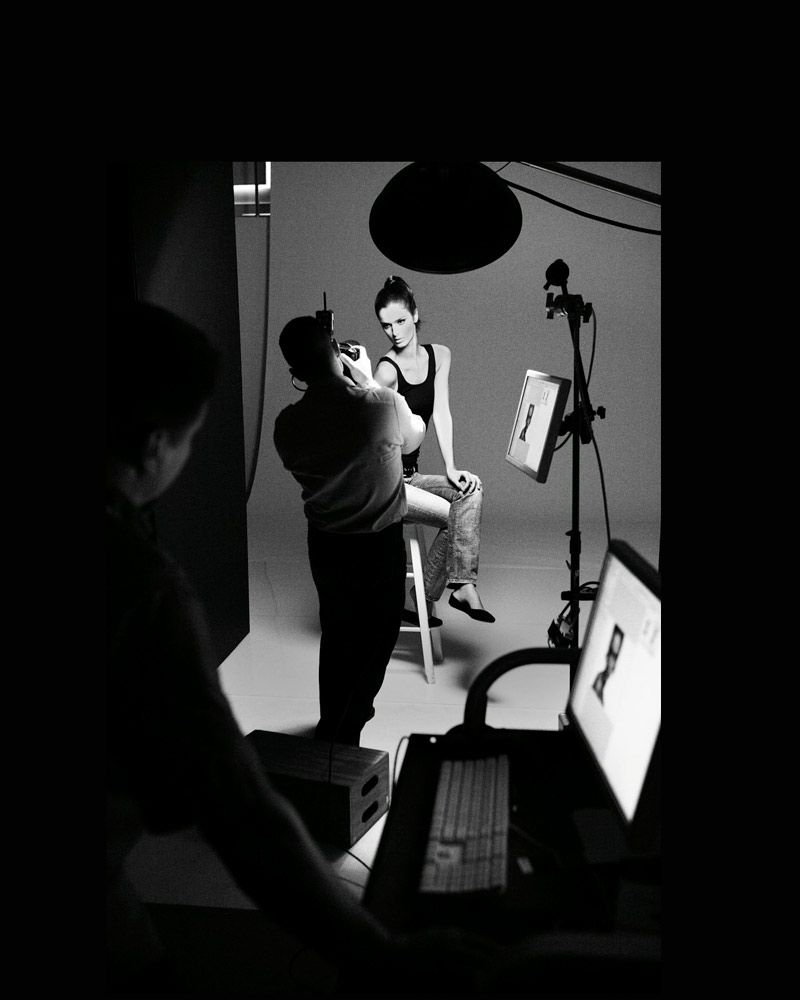 About James Moritz
CLICK HERE FOR LINKED IN PROFILE
"Art is Commerce" Andy Warhol
Fourteen years shooting monthly for Neiman Marcus is all most clients need to hear to be certain James Moritz will deliver. In the history of Neiman Marcus, only 3 photographers have ever been allowed to stay on rotation beyond 5 years. James Moritz holds one of the longest monthly assignment records, 13+ years all because he had one of the only perfect vendor approval ratings. Shooting for Neiman's is particularly challenging since each day requires a cohesive story using a signature style all while shooting images for 12 to 15 of the most demanding brands in the world.
Each brand image would have to follow the established and perceived brand guides and details. So every shot would have to have hair, makeup, nails, styling, pose, even lighting, and sometimes casting to meet the expectations of creating a branded image. James developed a proven failproof method of matching the details expected to reflect each brand by pulling the matching runway, campaign, and online images for each brand. Once hair and makeup styles for each shot have established the shots were matched to a location based on the necessary order for each shot. Determining the order of the shot is an art form to itself as one tiny mistake can result in missed shots or overtime which was never approved.
The true talent of a fashion photographer lies in being able to coordinate every single detail so that it all flows perfectly. Shots must be carefully planned with available daylight along with hair and makeup that is able to change to reflect each brand but builds as the day flows. The true talent is to be able to plan each shot so that every detail is addressed for each brand shot according to the campaign and runway that builds as the day goes by. Planning is crucial to avoid having to reset hair and makeup and start over which results in hours of downtime and almost always a negative outcome.
James's biggest accomplishment is being able to plan out each day so that there is never a full reset and hair and makeup styles can change but they are able to build as the day goes on. For example, we would often start the day with Burberry which provides very specific light makeup with an effortless slightly curled bouncy hairstyle that just looks naturally beautiful. Such a long career with one of the most challenging positions says a lot about Moritz's ability to deliver.
What sets James Moritz apart from any other photographer is that he understands how to create photography and video that tell the brand's story but more importantly is always accepted by even the most demanding brands. He has developed a creative technique that allows him to create images that align, elevate, and build brands without fail.
Trusted by so many global brands he has shot images and videos for Armani, Bergdorf Goodman, Dior, Esprit, Hermes, Gucci, and even brands like New Balance, Ritz Carlton, and Chase.
James Moritz is based out of New York but has worked extensively in Paris, London, L.A. Miami, and Dallas. Moritz and Co have established locations, studios, equipment, digital, and casting resources in each of these locations.
James always considered himself an artist and knew even as a child he was different from the other kids. Growing up in a small Texas town feeling different than other kids Moritz coped with a feeling of isolation by creating short films with a professional 16mm cinema camera he found in the attic. He would later discover the gear belonged to his grandfather who died before he was born and was also a highly successful commercial photographer and cinematographer. James learned early on how to entertain himself and stand out through creativity.
James learned all the details of the hidden world of fashion and celebrity photography through years of hard work as an assistant and while running a highly successful digital tech service for several of the biggest names in photography. Only through years of hands on experience with the biggest players in the industry did Moritz learn all the details of nailing an image that brands will approve which are scheduled and executed perfectly so that productions always stay within the budgeted time and money of the estimate.
Being excellent in this market is expected where outstanding art is expected. What makes a truly exceptional professional photographer is knowing how to predict what your client needs before they know enough to ask.
Only after decades of proven experience as a photographer, director, producer, businessman and delivering perfectly on time and under budget gives me the experience to predict what clients will need in any given situation before they know what they need.
Knowing what my clients need before they do makes me invaluable to my clients who know when they hire me I never bullshit them and always have their best interest in mind knowing I will always deliver everything that they need without the client having to ask.
Only a few of the very best photographers have the keen ability to predict every need a client will have before the shoot wraps. Always delivering images that are on brand and shot in every way that is needed for any project.
The advantage of knowing what my client's need gives me the ability to always deliver on time and always capture every piece needed. Its something extremely rare which all of my clients have told me has saved them more than once.
James's clients know that he can deliver and exceed their expectations without hesitation which has been the reason for his long-lived success in such a competitive industry.
"What client's don't know they need is just as important as the shot list they have planned out." What sets James apart from other artists is his ability to know what clients need before they have to ask.
His goal is to cover every detail of each shot, so clients know every angle, important detail, potential crop and every aspect of the shot from the model, pose, hair-makeup to wardrobe, styling, options and final layout are covered. The attention to detail is what keeps clients coming back. When a client knows the photographer will cover every possible need, clients feel more at ease and the creative process can be focused on creative rather than making certain that every potential detail is covered.
Early into the transition to Digital James knew that the more digital replaced print the more media clients would need. In order to meet these needs he partnered with Doug Hill who specializes in production but also is able to capture behind the scenes images, video clips and shots that require a second photographer on set.
By approaching shoots as a team James is able to focus more on creative details and interacting with the model and client knowing that production details are taken care of properly. On every shoot our team covers behind the scenes shots and makes sure the client has images they can use for influencer marketing and social media. Yet another example of how our team has an advantage over all the others, we provide all the media clients need beyond the shot list.
James Moritz's clients include some of the most prestigious brands today including Neiman Marcus, Bergdorf Goodman, Chanel, Calvin Klein, Coty, ESPIRIT and countless others. He has shot celebrity's most iconic figures, such as Kate Moss, Renee Fleming, Victoria and David Beckham, Kylie Minogue and Tom Brady.
In 2021 James announced his dedication as an NFT Artist known as MoJaKoi. His goal is to become known as the leading artist celebrities choose to work with for NFT collaborations. For more information on celebrities, NFT drops e-mail NFT@atfluence.com.
Without execption James Moritz has a long and sucessful history of always delivering outstanding, iconic media that exceeeds expectations. He has a history of delivery that stands for itself. To discuss your next project please e-mail us at info@jamesmoritz.com.